If reading if my favorite activity, then buying books is a close second. I love spending my weekends going to bookstores literally getting lost among the thousands of choices. Shopping only becomes fun when it becomes about book shopping! I remember starting my collection as a child, taking a sort of perverse pride in owning so many books. As I became an adult, I would love spending my free time perusing bookstores and coming home with five or six more to add to the collection. When friends came over, they would sometimes comment (with either envy or disgust) the number of books on the shelves. It's definitely a fun hobby. However, there is a dark side to the extravagant world of book buying!
As I sit here writing this article, I turn around to look at my shelves and the clear lack of further space. Books lay stacked on top of once were very neat shelves. There is a lovely pile next to my side of the bed. I think I even have one or two books in my car that I haven't brought in yet (hey emergencies happen). If I were to think about how much debt I have accrued simply for the love of books, I might pass out. Yes, there is a downside to owning so many works of literature. Perhaps I need professional help! Can one possess too many books? When is enough enough?
This affliction is actually quite common among book lovers. This recent article from the Guardian explores the phenomenon known as "bibliomania". In the 19th century, obsessive book buying became the pursuit of gentlemen who desired a large library. There was even a book written by English cleric and bibliographer Thomas Frognall Dibdin called Bibliomania, or Book Madness: A Bibliographical Romance. Dibdin developed a list of symptoms based on the types of books sought, such as first-editions, illustrated copies, or editions made with unique binding or covers. I say if this is good enough for the upper-class English, then why not right?
I found a couple of points very interesting in the above article. First, that book collecting of this magnitude was viewed as very antisocial. The buyer was considered to be someone who refused to contribute to the masses by not sharing books with anyone else. Second, that the innuendo used by Dibdin was considered "sexual innuendo." Here's some example dialogue from Dibdin:
"Can you indulge us with a sip of this cream?"

"Fortunately it is in my power to gratify you with a pretty good taste of it."
Oh my! This is an interesting argument that being a book hoarder could be an equivalent to sexual addiction. I may have more problems than I thought! I also found it fascinating that collecting books was considered an effeminate hobby. Personally I think women find sex appeal in the fact that I have a massive….book collection.
Here's a more recent article on the millennial book-buying boom.The article explores how even in the digital age, there has been a resurgence in buying physical copies of books. I've read a couple of books electronically, and I have to admit that I don't particularly care for it. There's just something about holding a physical book in your hand with its weight and the smell of paper.
"Tech-obsessed younger people are finding that holding a book in their hands can "fill an important void," said American Booksellers Association Chief Executive Officer Oren Teicher."
The article goes on to talk about how bookstores and the art of buying books are becoming more of a social experience. Who says readers are antisocial misfits? I mean not all the time anyway.
One doesn't buy as many books as I do over the years without picking up a trick or two. Buying books doesn't mean breaking the bank. I typically only buy used books. Within the past five years, I've purchased only a handful of books brand new. I usually do all my obsessive book buying at thrift stores and one particular used bookstore that has become my favorite. This particular store has thousands of books, and I almost always end up with at least one or two more. Sometimes lots more.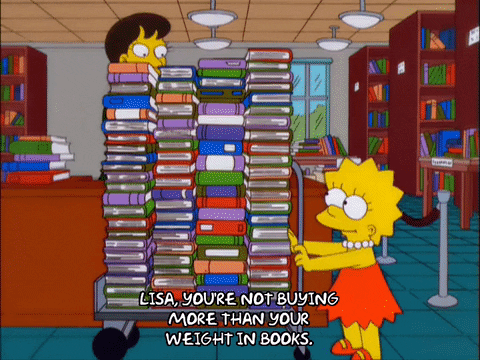 There are other ways to be thrifty as well. Bookstores often offer discounts or membership deals. I've often received books as gifts on my birthday and Christmas. Of course, there is always the public library (you do have to return those).
I don't think my book buying will stop anytime soon, probably not ever. At certain times, I would impose a temporary ban from buying more books. Sadly, this is usually short-lived. I supposed there are worse addictions out there.
Are you a book-obsessed shopper? What do you think about owning too many books? Comment below as I would love to hear your thoughts.