During my college career, I took more than my fair share of English Literature courses. I remember one particular class when my professor asked everyone to name an author who would stand the test of time. Some obvious names were called out-Dickens, Fitzgerald, Hemingway. When the discussion came around to me, I nervously asked, "What about Stephen King?" You could feel the silence in the room from my audacity to throw the name King into the discussion of so many legendary authors. Fortunately, the professor was a kindred spirit who voiced her agreement by saying, "I think King will last." Truer words were never spoken. It seems difficult to believe that there was a time when King wasn't one of the greatest-selling writers in the world. But back in the 1970's, he was a teacher just trying to make ends meet for his family. By 1977, he had published two fairly successful novels, but the release of The Shining would launch King into superstardom. In my review of his later work, Pet Sematary, I discussed how King's greatest strengths as a writer are creating well-developed characters and exploring the darkness inside human beings. In The Shining, these skills are executed to perfection. Creating an original spin on the "haunted house" story is no easy task, but I firmly believe that this novel is one of the best of the genre alongside Shirley Jackson's The Haunting of Hill House. I've reread this novel several times, and it continues to entertain as well as send chills down my spine with the immortal words "REDRUM REDRUM."
Jack Torrance, a writer and recovering alcoholic, is needing a fresh start. Recently fired from his job as a college professor due to an incident involving a student, his friend connects him with a winter job as the off-season caretaker of the Overlook, an old hotel deep in the Colorado mountains. Jack, along with his wife Wendy and five-year-old son Danny will be cut off from the rest of the world for three months after the winter storms hit. It will be the perfect opportunity for Jack to earn some much needed money, as well as complete his play. However, the idyllic Overlook as quite the shady past. Terrible forces exist inside the hotel, waiting for the right person to reawaken them. Unfortunately, the only one who knows that these horrors are coming is young Danny, who has a very special gift.
While there are several reasons why The Shining should be considered a classic work of literature, I will start with the most important, the characters. Yes, this is a work of horror. But it's also the tragic tale of a family and their past struggles. As I said, King is known for crafting believable characters, both good and bad. The Shining in particular is such a character-driven work, delving so deep into the psyche of its three main leads that you feel like you know them just as well as your own family members. King achieves this intimacy through lengthy flashbacks, specific details on their thoughts and feelings, and loads of repetition. While King has used these techniques in the majority of his works, with varying degrees of success, they work beautifully here. The reason they work so beautifully here is that along with a story of evil spirits, it's also a story on the horrors of addiction.
"This inhuman place makes human monsters."
Jack Torrance struggles with anger and addiction. While he's worked incredibly hard to stay sober from alcohol and to be a better husband, abstinence has been a daily tormenting struggle. Jack has made some costly mistakes due to his demons, and King does not shy away from the graphic details of his past abuse towards Wendy and Danny. While he has changed at the start of the story, that inner darkness is still there to some measure. As a result, his relationships with his wife and son are strained. While Jack Torrance may not be the most likable of King's protagonists, I think he's easily the most believable. He's flawed, and while some may struggle with forgiveness for his prior actions to the novel's start, I felt some compassion for him particularly following the glimpses into his upbringing. King is no therapist, but he manage to reflect how multi-generational trauma in families can repeat itself.
The story's other protagonist is Jack's son Danny. While King is fantastic at developing his adult characters, I think he has a real gift with his creation of child characters as well. Some of the most endearing moments, as well as the most horrific, involve Danny. I loved that his abilities were in the form of his imaginary friend named Tony. One of the more genius moves by King is the fact that, as readers, we know that events are going to be extremely bad when the Torrance family gets to the Overlook after only reading a few pages. But we keep reading. Through Danny's glimpses into the future, we know that horrible events are about to unfold. King says, "hey I warned you," but we don't stop. If I had one complaint about Danny, it would be that he seemed older than a five-year-old. I'm willing to give this one a pass on the account of his gifts, but I feel like seven or eight would have been more realistic.
While Wendy is given a solid character portrayal as well, she comes in last behind the rich development behind both Jack and Danny. I'm not viewing that as a slight on the story, as we learn enough to have a good understanding of her character, particularly the knowledge that she struggled with emotional abuse from her mother. For best supporting character, you can't go wrong with Dick Halloran, although his role is more along the lines of exposition in order to better understanding what "shining" actually means.
Setting and the pacing of the plot are the other elements that make The Shining such a fiction masterpiece. Even without the great cast of characters, I would still have enjoyed this work simply for the magnificence of the Overlook. I've always said that a great setting can become a character within itself. King achieves this with his grand hotel inspired by his real haunting experience while staying at the Stanley Hotel. The Overlook is a menacing presence from the outset with its forbidden rooms and scary garden of topiary animals. At the heart of the old building is the boiler, which becomes a huge piece of the final plot point. King knows the importance of setting up those little details quite early in the story. When Jack comes across a mysterious book of old news articles, he learns that this elegant hotel has a not-so-elegant past. The Overlook has a shady history of disreputable guests and horrific events whose ghosts fill its many rooms.
Inversely to the development of the human characters, the ghosts and dark forces that exist within the Overlook are not given very much backstory. I completely support this decision by the writer for I've always felt that the more mystery surrounding the other-worldly monsters, the better. The beings that exist within the hotel are parasites that take advantage of the darkness with Jack Torrance in an effort to become more powerful. At this point we know horrible events will take place. King manages to keep readers off-balanced by interspersing this feeling of uneasiness with moments of tranquility. Pacing is everything to this story. I love how we travel within the speed limit as events unfold with this sense of dread. Little details, such as the wasps' nest, come back in such a significant way to the overall story. Once Jack falls under the spell of the Overlook's malevolent forces, King kicks the pace into high gear. Suddenly, we are going 90 in a 60mph lane. In other words, when shit starts hitting the fan, King cranks the horror to an 11.
Here's a great description of the boiler room from Danny's point-of-view:
"The mechanical roaring sound, which he now recognized as the boiler at the Overlook which Daddy checked three or four times every day, had developed an ominous, rhythmic hitching. It began to sound like…like pounding. And the smell of mildew and wet, rotting paper was changing to something else-the high, junipery smell of the Bad Stuff. It hung around daddy like a vapor as he reached for the book…and grasped it."
Finally, let's talk about an issue that has been a dividing point among fans of this work for decades: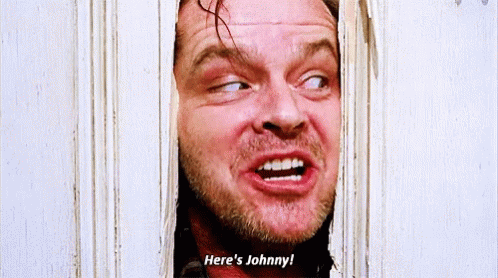 So here are my thoughts about the book vs the Stanley Kubrick film adaptation. Long ago, I learned a rather important lesson that has served me well. Don't compare movie to book. Instead, treat them as two separate art forms. The film adaptation is visually stunning with some impressive scenes, such as the Danny on a tricycle, the blood coming out of the elevator, and the famous face in the door. But it's not Stephen King's work. The character development is absent from the entire movie. What makes the book such a great literary achievement is in its development of this family. While I love Jack Nicholson's portrayals of so many great characters, I absolutely detest his version of Jack Torrance. From the first scene, he is totally unlikable. I got no sense of that need for redemption and would certainly not want to be locked up with the guy for three months, even before all the insanity. I'm not even going to discuss Shelly Duvall as Wendy. While the film captures the skeleton of the story, several important scenes are changed for the worse or simply not there at all. Recently, I did watch the sequel, Doctor Sleep, and enjoyed it very much. Again, I love Kubrick as a visionary filmmaker and his take on the material is an unforgettable classic of 1980's horror. But it's apples and oranges to the source material. So don't compare it.
Stephen King will forever set the bar high for writers with an incredible body of work, to which The Shining is one of many jewels. For lovers like myself of horror fiction and family drama, this is a novel that will stand the test of time. With perfectly timed plotting, a larger-than-life setting, plenty of chills, and believable characters, this novel is all the proof you need that Stephen King belongs within the ranks of classic authors.
"Monsters are real. Ghosts are too. They live inside of us, and sometimes, they win."
Have you read this book? I'd love to know your thoughts! Let me know with a comment below.