When I think of classic science fiction, my mind turns to the greats such as Ray Bradbury, Isaac Asimov, and the immortal Philip K. Dick. For this week's blog, I'm reviewing three of these eternal legends. However, there's a slight twist. These reviews are for lesser known works by these writers. As an added bonus, all three were written during the Golden Age of the 1950's. Please enjoy all the nerdy goodness in this triple review!
17. Out of the Deeps by John Wyndham
Before I started my book-blogging adventures, I fell in love with Wyndham's outstanding The Day of the Triffids. While Out of the Deeps doesn't quite hit the same high note, I still found it to be an enjoyable sci-fi romp involving mysterious invaders from the deep sea.
The novel describes escalating phases of an alien invasion as seen through they eyes of  journalist Mike Watson. During his honeymoon with his new wife and fellow co-reporter Phyllis, he witnesses five glowing balls falling from outer space into the sea. Most of humanity barely notices the aliens, and those that do have various speculations such as possible involvement by Russia. When a British submarine sent to investigate is destroyed, Britain responds with a nuclear weapon. This attack triggers a series of attacks by the aliens on various ships and outlying islands. The war escalates when the invaders melt the polar ice caps. As a result, the world is sent into global collapse with millions perishing. These events occur through escalating phases over the course of the novel.
Originally titled The Kraken Wakes, this novel follows some very familiar themes from early fifties British science fiction: a human apocalypse, the unknown motive of the alien invaders, and your "Johnny Everyman" style of narrator who is more an observer of events than an actual hero. There's even an eccentric scientist who knows what is happening, but is basically labeled a crackpot by the authorities. The most interesting character of the book for me was Phyllis, as it was nice to see an intelligent female character who mostly serves to keep her husband in check. Another aspect of the book that fascinated me was the calm demeanor of the main characters in the book. Despite the oncoming apocalypse, everyone seems to remain quite subdued and focused. Count on the English to handle a crisis without going into panic mode!
Playing on ideas straight from the much stronger Day of the Triffids, this one is still an interesting book worth reading if you are a John Wyndham fan. While less action and more dialogue, some of the scenes are very  suspenseful. I think one of the most terrifying aspects of this novel is that we never get an idea as to the reasons why Earth is being invaded. Also, we never really get a good look at the alien creatures who require the high pressure of the depths of the ocean to survive. Wyndham writes intelligent fiction, but does generate some chilling moments. This was a nice slice of 1950's sci-fi to begin my tour.
18. Double Star by Robert A. Heinlein
Our next stop takes us to the man responsible for such great novels as Stranger in a Strange Land and Starship Troopers. This is one of Heinlein's early novels before he became a household name. While Double Star lacks the grandeur and polish of his more famous works, this one is still a fun read that is full of action and comedy in equal measure.
Lawrence Smith, also known as "The Great Lorenzo" is a brilliant but now hard on his luck actor who gets an opportunity for the role of a lifetime. A master of impersonations, Smith is asked to double for one of the most prominent politicians in the galaxy. John Joseph Bonforte has been kidnapped right before a ceremony that could help in uniting the Human and Martian races. Although apprehensive at taking on such a dangerous role, the pride of The Great Lorenzo prevents him from turning the offer down.
Heinlein is a master of crafting a fun, yet campy universe. In such a short novel, we get a fully sketched interplanetary society, in which the United States still exists as a sovereign state, in cooperation with a galactic Empire. The Martians are an interesting race with their own culture, although not as fully described as they could be in my opinion. While the plot of the double is nothing new to fiction, Heinlein still manages to craft an intriguing if not implausible piece of fiction. Although initially I didn't care for the main character, I ended up finding Smith to be quite charming. The book does tend to decline in the second half with less action and more political discussion, but I still found a lot to enjoy with this one. If you end up enjoying Double Star, then I highly recommend another early Heinlein called Orphans of the Sky. He may be over the top at times, but Heinlein always guarantees a memorable journey.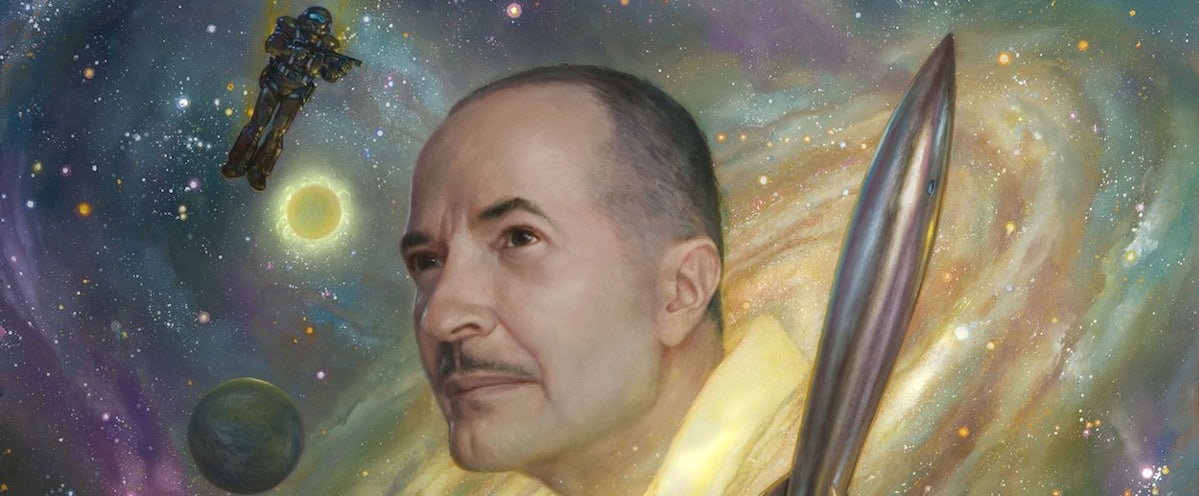 19. Third from the Sun by Richard Matheson
During my first year as a book blogger, I reviewed I Am Legend and Hell House. I discovered Matheson to not only be a master of science fiction, but horror as well. He is one of those writers that can make you afraid of the dark again. This collection Third From the Sun contains 13 short works that demonstrate the full range of this author's powers. While every short story collection has its highs and lows, as this one does, I still found myself enjoying it immenseley.
Some of the best tales in this collection are the shortest pieces. The opening number "Born of Man and Woman" is written from the perspective of a young child who is imprisoned by his "parents" in a cellar. We discover that the child is different as he bleeds green blood and looks different than the other children. For a simple story, Matheson manages to evoke a lot of emotion and create a rather chilling ending.
There are more traditional sci-fi stories to be found here such as "Third from the Sun" and "Lover When You're Near Me." However, Matheson manages to infuse these stories with a strong sense of unease that demonstrates his proficiency with the horror genre. One of my favorites in this collection is "Mad House," which I consider more horror than sci-fi. A failing writer begins having several accidents in his house the angrier he becomes. While this premise may sound ridiculous, it builds to quite a gruesome climax.
I wasn't expecting there to be so may funny stories as well. "SRL Ad" is an epistolary story about an alien from Venus who posts an ad in an Earth newspaper seeking a boyfriend. When a college student responds to the ad as a joke, a comedy of errors occurs as the Venusian decides to pay him a visit. "To Fit the Crime" is a fun comedic tale of a mean-spirited poet who mistreats his family all the way to his death bed. Let's just say his "afterlife" is quite fitting indeed.
My two favorite stories involve time travel. How can you not be intrigued when one of the stories is titled "F—"? The F-word in this case is the word food. A time traveler from the present arrives in the far future where food and drink is taken intravenously.  Much to his confusion, the food in his time machine is confiscated and he is threatened with jail.  It was interesting to see how food was a dirty and sexualized concept in this story. "The Traveller" is a much different yet equally fascinating time travel tale where a professor goes back in time and watches the crucifixion of Jesus Christ.  While merely instructed to observe and not interfere, the man is moved through watching Christ's suffering on the cross. It was an oddly inspirational way to end this mixed bag of a collection.
These three books were fun, and I already plan to do another triple feature again this year! I recommend reading the best from these authors before plunging into some of their other works. If you're a true sci-fi fanatic like myself, then you will have quite a huge selection.
"I suppose a book is still a book, even if no one but the author and his wife reads it."-Out of the Deeps by John Wyndham
Have you read either of these books? I'd love to know your thoughts! Let me know with a comment below.