Recently, I made a commitment to start exercising daily. As most of you who read my blog know, I have also promised to write on a more consistent basis. As I moan and groan about my lack of energy in both of these enterprises, I am reminded of a chapter from Natalie Goldberg's Writing Down the Bones where she compares writing to physical exercise. Motivation can be difficult to find at first. Once you get going, both can become part of a daily routine.
Here are five pieces of advice to inspire you in both writing and in exercise.
1. Self-motivation is key
When it comes down to it, we call the shots for ourselves. In order for writing or exercise to be successful, we have to be self-motivated. There will always be that voice in your head that says "Hey it's been a long day, just write tomorrow" or "You're tired, don't bother with the gym tonight." Self-sabotage has always gotten the better of me. No more! Find quotes that inspire you. Write yourself motivational notes. Remember that tired is often a state of mind.
2. Start slow
I have met a lot of people who approach huge goals with lots of energy, only to burn out within the first month. In fact, I'm one of those people! While there's nothing wrong with having long-term goals, sometimes it's best to break the journey down into smaller steps. Wasn't there a famous quote about Rome and taking your time? You know the one. Maybe your exercise goal is to eventually lose 30 pounds. Perhaps you want to complete the great American novel. There's no shame in starting slow. My plan for this month is to write two short stories. I also plan on committing to 15 minutes of exercise a day. The point is make the goals doable for you and build off of them.
3. Schedule time
People that know me have learned that I can be quite the scatter-brain. I'm not putting myself down, it's just that I've come to realize that I'm a disorganized mess. When it comes to my job or just getting anything done in general, I function much better when I have scheduled time. Take this little blog of mine for instance. Typically, I schedule two posts each week, one review and one general post. This has helped me to keep the blog updated on a consistent basis. In order to be more successful at exercise and writing, I will have to do the same. They say once you've done something for three weeks, it becomes routine (not sure who "they" are but I remember hearing that somewhere). So get out those planners and plan dammit!
4. If you want to do it, then it's important
Another obstacle to success is the guilt we feel. You are ready to go work on yourself, when all of a sudden you remember something important that you forgot to do. Don't avoid responsibilities, but also remember that your personal goals are important. A friend once said "It all gets done in time." If being a writer is something you want to do, then it's no silly. If training so you can run a marathon is your fitness goal, this is not ridiculous. Do it!
5. Take pride in the small victories
The first time you went running, you probably didn't make it very far. The second time maybe a little further. Next thing you know, you've run a full mile. As I said earlier, baby steps are important. Writing and exercise are alike because you have to start small and build towards those bigger goals. When you get one page written, take pride in that. Maybe just getting 500 words done was your starting goal. Don't judge what you have written right away. Just feel good that you did it. This is exactly the same with exercising, just be happy that you managed to survive for two minutes on that treadmill before falling down. You were able to do 10 jumping jacks today, when before all you could do was half that number. There's no shame in being pleased with yourself. Even if you only made it one step on the right path, that path is not going anywhere.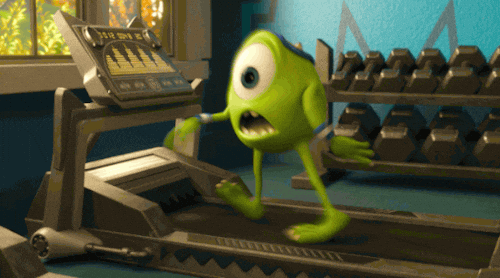 I hope this post provides a little motivation today. Whether it's writing or exercise (or both), you can accomplish anything. Just don't rush it. You got this!