Recently I finished two novels from Louisa May Alcott. Believe it or not, the author of Little Women penned several Gothic thrillers before becoming a literary sensation. I'm looking forward to writing my reviews of both The Long Fatal Love Chase and The Inheritance. For now, here are some other lesser known works from the classic authors you know and love.
Invitation to a Beheading by Vladimir Nabokov
Everyone has read Lolita (except for me). My one journey into the mind of this great Russian author is a surreal ride that echoes Kafka. This tale about a man sentenced to die for a crime he doesn't understand is filled with twists and metaphors on every page. I have it on my list for a reread because quite frankly I was unprepared the first time. The prose is typical of Nabokov who possessed a genius for beautiful lyrics that you practically need a doctorate to fully grasp. He was clearly an inspiration to one of my heroes, Haruki Murakami, and the art of magical realism.
Sandition by Jane Austen and "Another Lady"
Think you've read the entire Austen canon. Sandition was the novel she was working on which she unfortunately was taken from us. Although only a handful of chapters were completed, several authors have decided to finish these stories. This particular version finished by an anonymous author holds a special place in my heart. Set in a coastal town attempting to be the next vacation destination, I found it quite enjoyable while on one of my recent beach vacations. The collaborator manages to capture Austen's voice and developed several humorous characters. If you are going to read Sandition, I must insist you only do it while relaxing on the beach. The sounds and smells of the water only enhance the experience. I have in my collection another "completed" Austen work called The Watsons. I'm hoping to give it a read sometime in the near future.
Hard Times by Charles Dickens
Every serious reader has the same goal and that is to read more Dickens. Sadly, I have not read very many works by the man behind Great Expectations and Oliver Twist. One of his later works, Hard Times, is one of my favorites. Dickens manages to tell a great story about the conflict between being practical and being a dreamer set in an old coal mining town. Populated with several memorable characters, Dickens tackles themes ahead of his time, such as divorce and spousal abuse. I also recommend Hard Times if you are new to Dickens, as this is one of his shorter novels.
Chance by Joseph Conrad
Conrad is one of my favorite writers because he truly possessed the mind of a psychologist. Although he is best known for his works Heart of Darkness and Lord Jim, I've always liked this later work that marks the first time Conrad made a female the lead of the story. Ironically, Chance is the novel that made Conrad money and yet is one of his most criticized. Together with Darkness and Jim, this books forms a loose trilogy and the final chapter for Conrad's recurring character/narrator Charlie Marlow.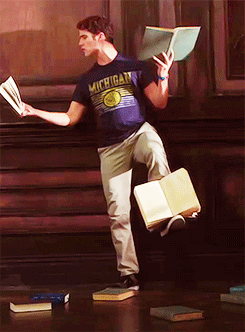 We Have Always Lived in the Castle by Shirley Jackson
Shirley Jackson is known for her controversial short story "The Lottery" as well as the creepy The Haunting of Hill House. Castle ranks among my favorite books due both its supernatural themes and its deeper introspection into small town persecutions. I felt like the book is solidly embedded in the tradition of Gothic fantasy, without the more boring elements that often occur. Another Jackson book I'm dying to read is Hangsaman, one of her earlier and most unsettling works.
The Red Pony by John Steinbeck
I was determined to read more from John Steinbeck after loving his incredible classic Of Mice and Men. If there are two things that Steinbeck does incredibly well, it's his great depiction of American landscape and an intense understanding of human emotions. Divided into four interlocked stories, The Red Pony is a work that can be enjoyed for each individual work while greatly appreciated as the sum of its parts. I'm amazed at how a writer can convey so much meaning in such a short work of under 100 pages!
The Last Man by Mary Shelley
Shelley's beloved classic Frankenstein is forever embedded into our culture. However, this science fiction novel was rejected upon its first release due to Shelley being ahead of her time. A devastating plague has wiped out the world with the exception of one final human determined to chronicle the events of this apocalypse. This one is a must read from one the pioneers of the genre.
From the Dust Remembered by Ray Bradbury
Sure, everyone's read Fahrenheit 451 and Something Wicked This Way Comes. I have a strong affection for this little "novel" that is actually more of a collection of shorts brought together under one theme. This is a story of a boy who lives in a family of monsters. Everybody but him possesses a superhuman ability. Bradbury will always be one of my favorites because he is a dreamer who was able to blend the fantastic with ordinary human emotion.
Collected Stories by Gabriel Garcia Marquez
I've been reading lots of short stories lately, and I was fortunate to find this great collection written throughout the life of a truly legendary author. Known more for his novels One Hundred Years of Solitude and Love in the Time of Cholera, Gabriel Garcia Marquez penned many short stories that are nothing short of breath-taking. Another student in the art of magical realism, he manages to take the surreal and add a strong dose of humanity in the process.
Bartleby the Scriverner by Herman Melville
Until I read this, I thought Melville had only penned sea yarns.This story is narrated by a lawyer about a rather strange employee who worked for him for a very short time. Bartleby arrives one day in response to a job opening as a scrivener, someone who does writing and copying for legal offices. At first, Bartleby is quite helpful, but then becomes an enigma around the office. This little tale is full of both humor and tragedy. I highly recommend this one.
These are just a few of my favorites. I hope you discover a new favorite from my list or you select your next classic from it.
Do you have a favorite "lesser known" classic or interested in reading a particular one? Comments are always welcome!