Since last week's tag blog went over well, I will be doing another one for this week. This tag is all about confessing guilty book secrets….
Which book, most recently, did you not finish?
Despite my love of all things Murakami, I could not finish Hard-Boiled Wonderland and the End of the World. This is one of his early works, and it was a test of my strength to even get halfway before calling it quits. I can usually get into one of his novels right away, and most of his are some of my all-time favorite novels. Unfortunately, I just didn't get the point with this one.
What book is your guilty pleasure?
Despite being a bit of a book snob, I do love the Odd Thomas series by Dean Koontz. These stories are about a simple fry cook in a small town that can communicate with the dead. I remember a few years ago finishing the first two books in a day. They are quite addicting.
Which book do you love to hate?
Several years ago, I read all of the Twilight books. My wife and I have watched most of the movies. I am not able to give you a reason, other than I was trying to keep my thumb on the pulse of what was considered cool at the time. The most interesting aspect of the films are if you cut out all of the scenes of awkward stares, each movie would be about 15 minutes long.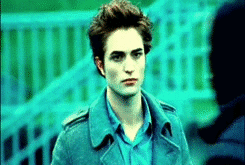 Which book would you throw into the sea?
In college, I fell in love with Joseph Heller's masterpiece Catch-22. Fast forward to years later, and I decided to try another of his works so I selected Something Happened. After slogging through hundreds of pages that just depressed me, I got to the twist ending. The following GIF sums up my reaction:
So in other words, Heller you can kiss my ass.
Which book have you read the most?
I think that award would have to go to the Harry Potter series. Since joining the phenomenon, I've read each of those books at least three times with the exception of the last one.
Which book would you hate to receive as a present?
Hate is such a strong word, but I would have to say anything of the romance novel variety that literally fills more shelf space in bookstores than any other genre. Not really my cup of tea….
Which book could you not live without?
This is a tie between two books by the same author: The Remains of the Day and Never Let Me Go by Kazuo Ishiguro. He is hands down one of my favorite writers ever. These books changed my life.
Which book made you the angriest?
Although Stephen King's Dark Tower series rank among the greatest books ever, I was extremely angry at how the final book ended. I remember staying up all night when the final installment came out just to finish this series that had been plaguing me for years. I won't spoil it for you, but I was shocked and a tad angry when it was all over.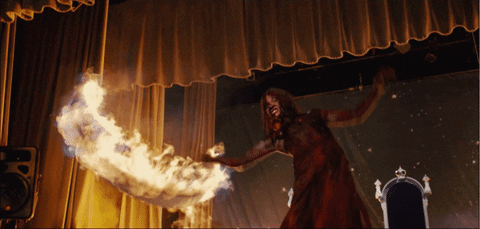 Which book made you cry the most?
My wonderful wife introduced me to one of her favorite writers, the incomparable Kate DiCamillo. I fell head over heels in love with The Miraculous Journey of Edward Tulane. The simple tale of a rabbit made of china and his travels around the world as he tries to get back to his original owner is an emotional one. It is fabulous, and I dare you not to get choked up from this beautifully illustrated book.
Which book cover do you hate the most?
I've had a copy of the classic Lolita on my shelves for years. We all know that story. I dread the day I go out due to the looks I may get from the less cultured.
Which book are you most embarrassed never to have read?
Although I've read a lot of classics, I've never read Moby Dick. I recently finished some of Melville's later works, but have never taken a journey with his greatest novel. It is my understanding that conquering this one elevates you into the elite status. Soon, I will go on the hunt for that elusive white whale…..
There will be a new review later this week. I would love to hear your thoughts and comments on this entry, or any of the others.