In the ongoing crusade to make my reading blog more personal, I decided to share some of my own personal reading habits. This idea came to me courtesy of 50 a year, a phenomenal reading blog. If you have not checked it out, I urge you to do so immediately. In one of her posts, the author Clare answered some questions on her reading preferences. I loved the idea so much that I am posting my own answers to these questions. Here we go:
Do you have a certain place at home for reading?
I have two locations in my home for my favorite activity. In the morning, I will usually read in the living room on the couch with our cat curled up next to me. Before falling asleep, I read in bed with my wife curled up beside me.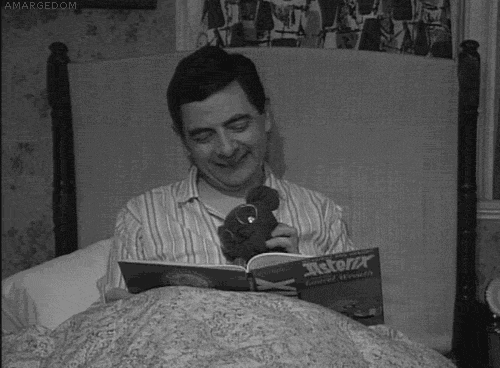 Bookmark or a random piece of paper?
I have several bookmarks next to my side of the bed. I have been using the same one for quite some time, a red one that says "Keep Calm And Read On." I also have a really nice metal one that has a list of 50 must read classics as well as a Doctor Who one. I will use a random piece of paper if I absolutely have to, but I really prefer a bookmark.
Can you stop reading at any time, or do you have to stop in a certain place?
Being able to read a lot means accomplishing the task in small doses as well as longer periods. Usually, I like to finish the chapter I'm on, or at least stop at a break within the chapter. However, sometimes life calls so you just have to stop at whatever sentence you are on.
Do you eat or drink while reading?
Sometimes, I will enjoy a snack while reading but I think that's a rarity. I usually have a tea or a water besides me.
Can you read while listening to music or watching TV?
I've been working on turning the TV off more often, although I've been bad and had it on in the background. Sometimes I like to have music on when I'm reading.
One book at a time or several at once?
Back in the day, I used to try to juggle several books at once. Unfortunately, I found that this method doesn't work well for me as I will get parts of one book mixed up with another. Occasionally, I'll have two books going on at once. This seems to work better if one of them is a collection of short stories. Mostly, I stick with one book at a time, get it read, and move on to the next.
Read out loud or silently in your head?
Silently. I don't like the sound of my voice.
Do you read ahead or skip pages?
My ADHD could not handle skipping ahead.
Break the spine or keep it new?
I try very hard to keep my books looking new. Since I only buy used books, I try to find ones that are in the best shape possible. However, there are those books in my collection that are a bit worse for wear. Obviously, those are the ones that I've read the most times.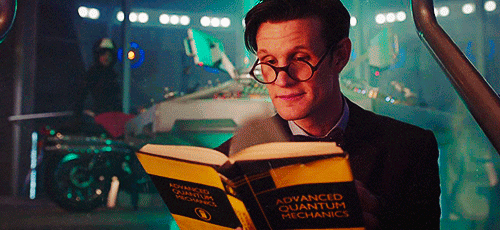 Do you write in books?
I don't. However, I'm planning to start keeping a notebook where I can jot down my thoughts on the books I'm reading. I have a couple of great journals that I think would be perfect for this.
I would love to hear about your reading habits. Do you write in books? How many books do you read at once? Feel free to comment below. Happy reading!