When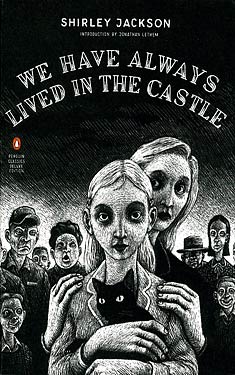 you hear the name Shirley Jackson, you most likely think of her famous short story "The Lottery." Although I don't remember much about my high school reading experiences, I certainly remember reading Jackson's delightfully creepy short story with a horrific twist ending. Fast forward several years later, and I discovered that Jackson penned half a dozen novels and many more short stories. I first read We Have Always Lived in the Castle a few years ago and decided to give it a reread. Without a doubt, this is one of my favorite horror novels of all time. It is a chilling work about the last surviving members of the Blackwood family who live in a big house in a small New England town.
Jackson doesn't waste time in hooking you in the opening:
"My name is Mary Katherine Blackwood. I am eighteen years old, and I live with my sister Constance. I have often thought that with any luck at all, I could have been born a werewolf, because the two middle fingers on both my hands are the same length, but I have had to be content with what I had. I dislike washing myself, and dogs, and noise. I like my sister Constance, and Richard Plantagenet, and Amanita phalloides, the death-cup mushroom. Everyone else in our family is dead."
It only gets better from there. Mary Katherine who goes by the nickname Merricat lives with her older sister Constance and their uncle Julian. The remaining Blackwoods are all deceased from poisoning several years earlier. Uncle Julian survived, but as a result of the poison, is now extremely sick and has dementia. Constance survived because the poison was in the sugar (which she never uses), and Merricat was sent to her room that night without dinner. Only Merricat leaves their home two days a week to shop for groceries as the majority of the town has shunned the sisters for believing Constance to be responsible for their family's demise. In the first chapter, we immediately see the cruelty that is inflicted upon Merricat from the townspeople.
Merricat as the narrator works well and adds an entire new layer of creepiness to the novel. She believes in witchcraft and practices odd rituals in order to prevent the outside world from entering their home. These rituals consist of things like burying household objects, nailing things to trees, and avoiding saying certain words. Merricat talks about these practices rather matter of fact and fantasizes about living with her sister on the moon. Constance never leaves the house, while Uncle Julian is committed to his life's work of creating a narrative of the events that occurred that fateful n
ight of the poisoning. Although the survivors have become used to their lives, trouble arrives in the form of a distant cousin who only has eyes for the family wealth.
Shirley Jackson is a writer that walked in two worlds. If you have read any of her short stories (which I highly recommend), they either focus on the supernatural or on the problems with domestic life. Sadly, mental illness was no stranger to Jackson's life. She allegedly suffered from anxiety and depression leading to her untimely death. Jackson also often felt like an outsider, and this theme of being an outcast comes forth in many of her works.
We Have Always Lived in the Castle ranks among my favorite books due both its supernatural themes and its deeper introspection into small town persecutions. I felt like the book is solidly embedded in the tradition of Gothic fantasy, without the more boring elements that often occur. The Blackwood home is fantastically described by Jackson, and at times, feels like a character itself. The twisted domestic life of the sisters works well in this setting, and I liked how there is never anything concrete in regards to supernatural occurrences. For me, each sister seemed to represent an aspect of Jackson's character. There was Constance who never left the house and took care of all the domestic duties. Then there was the wildly free-spirited Merricat who was very off balance.
SPOILER WARNING AHEAD!
My one complaint about the book is that I wished there had been a more specific motive given for why Merricat poisoned the family. I understand that she is obviously mentally unbalanced and the hints that were scattered that she often felt mistreated by the adults in the household. I think this novel could have been even stronger had there been something specific which had occurred.
I suppose you could say that there is a happy ending of sorts despite what occurs to the sisters. If you haven't read this novel before, I highly recommend you give it a try. The Haunting of Hill House is another great one. I definitely plan on checking out more of Jackson's work.
"We eat the year away. We eat the spring and the summer and the fall. We wait for something to grow and then we eat it."